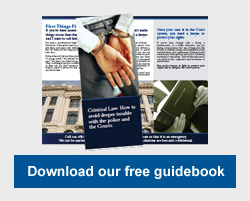 If you have been arrested and charged with a crime in Long Island, you need experienced representation to protect your legal rights.
Our Long Island criminal lawyers have been handling criminal cases for more than 20 years. We have a team of former prosecutors who speak English and Spanish and have successfully handled thousands of misdemeanors and felonies, including assault, larceny, drug charges, driving while intoxicated (DWI / DWAI), criminal contempt, domestic violence, manslaughter, Aggravated Unlicensed (VTL 511), and other charges.
Our Suffolk County, Long Island criminal law attorneys will review the charges filed against you to determine if they are legally sufficient. If they are not, we will prepare motions, conduct hearings and take your case to trial to protect your rights. In appropriate circumstances, we will negotiate with the district attorney and with the judge to obtain the best plea bargain offer we can to further your best interests.
Contact us today
Long Island Criminal Defense Attorneys
Understand that you have certain constitutional rights that are guaranteed to you by the United States Constitution and the Constitution of the state of New York. You have an absolute right to remain silent. No one can force you or coerce you to plead guilty to anything. You have a right to take your case to trial, and to force the people to prove its case against you beyond a reasonable doubt. You have a right to cross examine and confront the prosecution's witnesses and to provide your own defense. You have the absolute right to be represented by an attorney at each and every stage of your criminal proceeding.
If you are contacted by the police to be questioned or if you are arrested, call us immediately before speaking to the authorities. It is unwise to speak to the police without an attorney present. Anything you say and any statement you sign can and will be used against you.
If you are charged with a felony, it is particularly important that you retain counsel right away to avoid possible indictment. An indictment is a proceeding where a grand jury hears evidence to determine whether or not there is probable cause to charge you with a felony, which is a serious criminal charge. Once you are indicted, the law places restrictions on plea bargains, so it is essential that you retain counsel right away. We provide immediate and personal attention to your case to protect your rights in these instances.
We are experienced at plea negotiations, motion practice, hearings, trials and grand jury proceedings. Our Long Island criminal lawyers are available 24/7 to handle your criminal cases, including weekend arraignments.