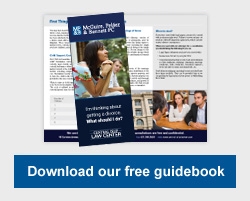 When a relationship fails, it is hard enough to manage your emotions. It is even harder to manage your household. Our attorneys are sensitive to your needs and experience in handling your legal matters.
Professional and Experienced Divorce Attorneys
You need to protect your assets and make sure that the best interests of your children are attained. We can commence or defend a matrimonial action in Supreme Court, seeking your fair share of the marital assets, while representing you on issues of maintenance, child custody, child support, and visitation.
If you have never been married, are already divorced, or are not seeking a divorce, our Suffolk County marriage lawyers can represent you in Family Court by filing a petition on your behalf for child support, custody, and/or visitation. We can also seek an order of protection on your behalf to ensure your safety.
Watch Our Marriage, Divorce and Family Court Video
Protect Your Child's Financial Future
If you are a custodial parent you have the right to obtain child support from the non-custodial parent — even if the non-custodial parent is working off the books or is unemployed and receiving unemployment benefits. Furthermore, you are entitled to have the non-custodial parent provide or contribute to your children's health care, education, and daycare expenses.
If you are the non-custodial parent and have lost your job or your income has been diminished, we can petition the court for a downward modification to lower your monthly payment.
If your former partner has temporary custody of your child or children, we can bring a petition seeking permanent custody or visitation.
It is important that you are aware of your rights when it comes to you and your children. Our Suffolk County family lawyers will fight hard for you and your family's behalf.
Fill out a contact form to get in touch with us today.