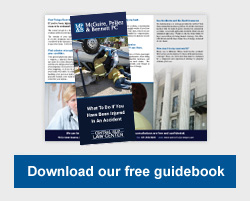 If you have been injured in a car accident, a construction site accident, a slip-and-fall accident, or an on-the-job accident, our accident attorneys have more than fifty years of expertise in handling these kinds of cases for the Suffolk County areas.
Our Long Island personal injury lawyers have also successfully delivered medical malpractice and wrongful death awards for many of our clients.
We will provide you with highly professional and competent representation. You won't see us on any television commercials promising you "large cash awards" or posing next to a damaged automobile; instead, you will find us in our office or in court, working hard on your behalf.
Fill out a contact form to get in touch with us today.
Our Personal Injury Lawyers are Here to Help You
Our Suffolk County personal injury law firm is conveniently located in Central Islip near the Central Islip Court facility on Long Island. We will work diligently in every way to help you make the best of difficult times. We will help you to process your insurance and no-fault claims without charge to ensure that your medical expenses and property damages are compensated. We will also work with your doctors to monitor your recovery progress to ensure that you are reimbursed for your pain, suffering and economic loss.
Our personal injury law office has experienced investigators with offices in the Central Islip area and throughout Suffolk County, ready to independently research your claim and work with the authorities to provide the necessary information about your case.
Our accident attorneys will take your case on a contingency basis, so you won't have to pay our offices any legal fees until we recover an award on your behalf. If there is no recovery, you will not have to pay any legal fees. It is in our best interest and in yours to obtain the largest award we can on your behalf.
If you are injured, it is essential you consult with a Long Island accident attorney right away. Failure to do so can result in an irrevocable loss of recovery or right to seek reimbursement for out-of-pocket expenses.